About Rene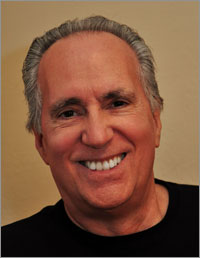 Rene Curbelo comes from a musical family and grew up listening to the great jazz and latin players of the time. His father, Jose Curbelo, was a famous Latin band leader in the 1940's and 50's. Rene started playing the piano at the age of 7 and trained classically until starting high school at the renowned High School of Music & Arts in New York City. There he was influenced by Classical, Rock, Jazz and Latin music styles. He began playing professionally at 17 years old and while going to the University of Miami as a Business Administration major, he was the first ever non-music major to be accepted to play in the prestigious University of Miami Jazz Band. During his college years he played professionally with several of the local Miami bands, including "The Ibis Brothers" and "The Kidds" playing the Hammond B3 Organ, as well as Farfisa and Vox Organs, Fender Rhodes, Clavinet, Arp 2600, Arp String Ensemble, Yamaha DX-7 and many other keyboards throughout the years.

Rene has played keyboard for some well-known singing groups of the 60's, such as:

• Angels (My Boyfriend's Back)
• The Chiffons (Tonight's the Night, He's So Fine)
• The Crystals (Da Doo Run Run, Then He Kissed Me, Uptown, He's a Rebel)
• Shangri-las (Leader of the Pack, Remember (Walking in the Sand))
• The Capitals (Cool Jerk)
• Vito & The Salutations (Unchained Melody)

After graduating from the University of Miami, he strayed from his music and pursued a career as a General Contractor in South Florida which eventually led him to his interest in computers as a hobby. After developing more and more skills on the computer, he eventually started his own Internet business, doing programming and developing websites which he still does today.

Always remaining involved with recording in his home studio and never losing his interest in music, he is now focusing his creative energies on Composing, Producing, and Recording in his new Digital Pursuit Music recording studio. Combining his computer skills with his musical talents has led him to his latest recording projects. To listen to his old and new projects, create a free account to access the private area and hear completed and "works in progress". During 2021 you can expect many more songs available, in their final form, on iTunes and/or watch our video(s) on YouTube.